Click here to view original web page at news.thomasnet.com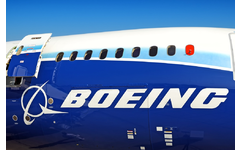 Global aerospace giant Boeing recently signed a $1 billion contract with software provider Dassault Systemes. Boeing's primary goal will be modernizing its production systems to fill its backlog of orders more quickly. The 30-year contract is renewable every 10 years and was awarded after two years of competition.
A major component of the contract will be the use of 3D software to improve product and process design. The company's supply chain will also see upgrades stemming from increased visibility amongst subcontractors from a single interface.
The contract, the largest ever signed by Dassault Systemes, is seen as a way for the company to grow its presence in the civil aeronautics, defense, and space marketplaces. From Boeing's perspective, they need a quicker transition to digital manufacturing systems. Another significant element of the contract will be bringing Boeing's legacy data from the early 1990s into the modern platform to create a unique reference library.
Insights
This level of investment in a single software provider is interesting on a couple of fronts. First, it accentuates the importance of time-to-market strategies for all manufacturers, regardless of size or industry. Boeing has years of backordered work, but they don't get paid until the planes are received by customers. By investing in this type of system, Boeing is committing to a competitive time-to-market weapon as it battles Airbus and others for aircraft supremacy.
Additionally, this decision doesn't just impact Boeing's processes, but the processes of every company that works with them. Historically, manufacturing has been slow to adopt software solutions, especially those with enterprise-wide applications. With this dea,l Boeing not only validates such an approach, but will draw small and mid-size suppliers into making a similar software decision. Ideally, production times will be cut, orders filled more quickly, and everyone benefits from leaner supply chains and production processes.
Don't miss the latest news!
Receive industry and products news from the market categories that matter to you most.
Stay up to date on industry news and trends, product announcements and the latest innovations.